Freeverse Games for iPhone/iPod touch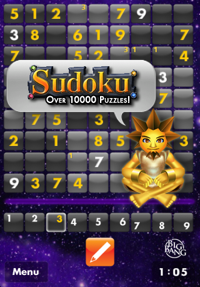 Freeverse has a couple games ready to go for the iPhone and iPod touch when the App Store goes live.
Wingnuts Moto Racer is a bike racing game that uses the accelerometer to steer. During the WWDC keynote Pangea Software demoed a similar style game named Cro-Mag Rally. For some reason this type of game just doesn't appeal to me. Of course that won't stop me from downloading a demo if one is made available.
The other game, Sudoku, has a much better chance of making it on my iPhone. The only problem for Freeverse (and others) is that Sudoku is such a popular game that there are likely to be many versions of it in the App Store. It's along the same lines as the tip calculator and unit converter applications -- it will be tough to sell them when good free options are available.
Future offerings that Freeverse has in the works include Golf, Bowling, Soccer, and Baseball spots games.