Results tagged "AppleHound" from AppleHound
New Year's Resolution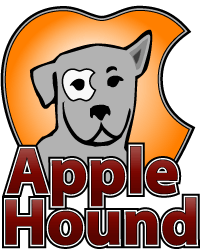 I have never been one to establish new year's resolutions, but that might be what is needed to get me writing more frequently. What is the problem you ask? Well, it all boils down to the goals I set for myself when starting AppleHound.
The most difficult goal was to make a concerted effort to post unique content. The world does not need another copy and paste Apple news blog. This was surprisingly easy at first thanks to the iPhone, but became more difficult during slow news days/weeks/months. Also, it takes a lot more time to create posts that are not a simple rehash of the days news. I am not going to abandon this goal entirely but will bend it a little more this year.
So my resolution this year is to create a blogging schedule and post on a wider range of subjects. I may also pursue individuals who have shown an interest in contributing to AppleHound.
Happy New Year!
We thank you for visiting AppleHound, and wish you a wonderful 2008!
iPhone Confetti Wallpaper:
Continue reading Happy New Year!.