eWallet for iPhone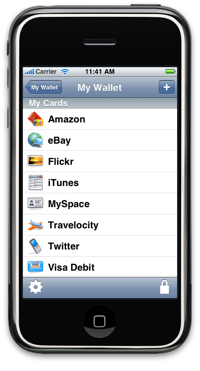 Shortly after the iPhone was announced in January 2007 blogs began posting articles critical of Apple's decision to make the iPhone a closed-architecture. The general belief was that this would limit the potential of the device because many users wanted the freedom to load full featured applications like games and task managers. Shortly after the iPhone was released in June 2007 web developers made sites available to fill some of the gaps. While better than nothing, they do not work when disconnected from the Internet and performance cannot match that of native applications even when connected through wi-fi.
At the time a friend was considering an iPhone purchase but was disappointed that his favorite mobile application named eWallet would not be released for the iPhone. His thought at the time was that the application was more important than the phone. Several months after the iPhone was released I was surprised to hear that he had purchased an iPhone. The reason? The overall experience was so much better than Windows Mobile that a single application could no longer be the deciding factor.
Last week Ilium Software announced that an iPhone version of their eWallet application would be made available on the App Store as soon as it goes live and Apple approves it. Pricing has not been announced, though I would expect it to be in the range of their other versions -- $29.95. It is also unknown if discounts will be provided to owners from other platforms. Visit the Ilium Software iPhone blog post for more information, images, and to post a comment to the developers!
The enterprise and App Store features in iPhone 2.0 will transform the iPhone into a new device. Add 3G and GPS in the mix and you are looking at a game changing device (again).