Enigmo Puzzle Game Proves to be Popular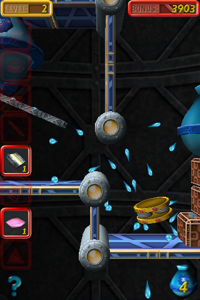 Pangea Software was one of the companies selected by Apple to present their applications at WWDC. One of the applications demoed by Pangea was a puzzle game named Enigmo. Two days later Pangea received an Apple Design Award for the "Best iPhone Game". You can hardly ask for a better product announcement event.
At the time of writing the $9.99 Enigmo is #4 on the Top Paid Apps list with more than 300 comments and an average rating of 4.5 out of 5 stars.
From the product page: Enigmo is a 3D puzzle game where you direct animated streams of flowing liquid so that the droplets get to their destination. Water, Oil, and Lava fall from Droppers and bounce around the walls and the puzzle. You move and rotate various types of bumpers, sliders, accelerators, and sponges in order to divert the flow of the falling droplets. The faster you complete each of the 50 levels the more bonus points you receive.
Way back when I used a Windows Mobile phone there were a few games like this that I really enjoyed. There is just something satisfying about completing a puzzle and reaching a goal. I have played through 10 levels and am finding the gameplay to be fairly easy. It does take a little time to figure out how each of the little objects can affect the flow of the droplets. The game would benefit from a practice level that lets you learn how to interact with the objects without the sacrifice of bonus points!
A Mac version of the game is available on the Pangea site for $19.95.